"In all the positions that I have had the good fortune to occupy, I have been driven by the deep conviction to serve, to help, to proffer solutions and to leave behind a legacy of courage, of hard work and of unyielding commitment to making a difference."
Dr. Abubakar Bukola Saraki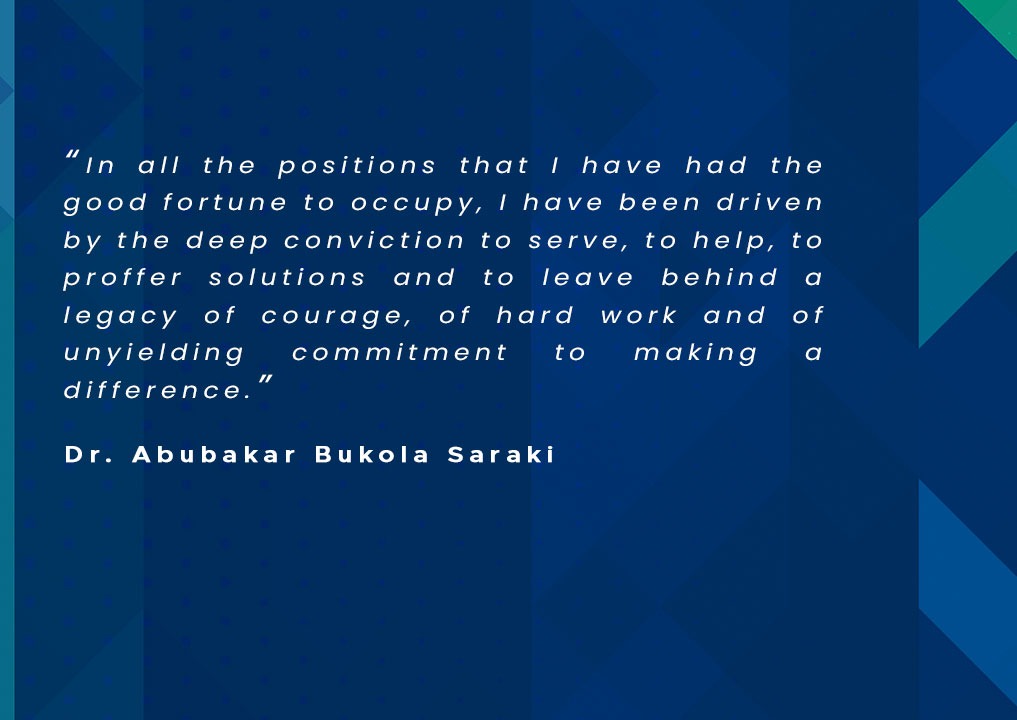 FOUNDER OF THE ABUBAKAR BUKOLA SARAKI FOUNDATION
(2019)
In June 2019, Dr. Saraki established the Abubakar Bukola Saraki Foundation (also known as the ABS Foundation). The Foundation is dedicated to pursuing policies and programs that bridge the gap between opportunities backed by resources and Nigeria's talent pool in the focal areas of education, health, the environment, sports, and job creation. With over two decades of service in both the public and private sectors, Dr. Saraki has been motivated by a single objective—a strong desire to contribute to the growth and development of his country in a manner that ensures the deployment of available resources to create opportunities that produce maximum results to be shared by all. Aligned with his vision, Dr. Saraki's establishment of the ABS Foundation marked his transition from public service to a robust, dedicated pursuit of philanthropic efforts. The Foundation aims to improve the quality of life for all Nigerians, creating prosperous and enabling environments for current and future generations.
FOUNDER OF THE AFRICAN POLITEIA INSTITUTE
(2018)
The African Politeia Institute (TAPI) is a holistic think tank founded by Dr. Saraki with a mission to improve public policy discourse and promote informed debate on critical social, economic, and environmental issues in Nigeria. By combining in-depth research with a practical, solutions-oriented focus, TAPI aims to provide non-partisan, objective foundations and proposals for integrated policymaking and planning. Through its rigorous research, evidence-based recommendations, and collaborative approach, TAPI contributes to Nigeria's progress by shaping effective policies, fostering informed public discourse, and promoting sustainable development for the benefit of all Nigerians.
TAPI also collaborates with the Grow Nigeria Initiative to showcase how its proposed solutions can effectively address Nigeria's challenges.
FOUNDER OF THE GROW NIGERIA CONVERSATION
(2018)
The Grow Nigeria Conversation is a national development initiative conceived by Dr. Saraki to foster public dialogue on critical issues pertaining to Nigeria's growth and prosperity. Recognizing the power of inclusive dialogue as a tool for policy-making, this initiative aims to engage Nigerians from all walks of life to share their views, experiences, and innovative ideas towards national development. Central to the Grow Nigeria Conversation is the belief in the untapped potential of Nigerians as the most valuable resource for the nation's growth. It seeks to engage this resource, encouraging active participation in the country's affairs, and tapping into their wisdom, creativity, and diversity of thought to help identify and address the issues that most critically affect Nigeria's progress. By creating platforms for dialogue, it hopes to inspire policy changes that reflect the shared aspirations of Nigerians. The Grow Nigeria Conversation has been instrumental in fostering civic participation, understanding public opinion, and shaping policies that respond to the needs and expectations of the Nigerian people.
SENATE PRESIDENT
(2015 - 2019)
Dr. Bukola Saraki, the 8th Senate President of Nigeria, led the Senate to pass a record 274 bills and 192 resolutions in 46 months, the most by any Senate in Nigeria's history.
Some of the landmark bills passed under his leadership include the Not-Too-Young-To-Run Bill, which lowered the age limit for presidential aspirants from 40 to 30 years old; the Police Reform Bill, which sought to improve the accountability and transparency of the police; and the Petroleum Industry Bill, which aimed to reform the oil and gas sector.
Dr. Saraki also played a key role in Nigeria's anti-corruption fight. He sponsored the Nigerian Financial Intelligence Unit Bill, which was passed into law in 2017. This law helped to strengthen the country's ability to track and recover stolen assets.
Under his leadership, the Senate also made significant progress in improving the lives of Nigerians. For example, they passed the North East Development Commission Act, which provides funding for the reconstruction of the North East region, which was devastated by the Boko Haram insurgency. They also passed the Secured Transactions in Movable Assets Credit Act, which makes it easier for businesses to get loans.
As a result of these and other initiatives, Nigeria's ease-of-doing-business ranking improved by 24 places under Dr. Saraki's leadership.
In addition to his legislative achievements, Dr. Saraki also made significant contributions to the development of Nigeria's democracy. He was a strong advocate for the independence of the legislature and the judiciary, and he worked to promote transparency and accountability in government. He also played a key role in resolving the political crisis that followed the 2019 general elections.
SENATOR REPRESENTING KWARA CENTRAL
(2011-2019)
In his first term as Senator of the Federal Republic, Saraki was appointed the Chairman of the Senate Committee on Environment and Ecology while serving in the Senate Committees on Capital Markets and Finance. Saraki's leadership of the Senate Committee on Environment and Ecology set the pace for international legislative cooperation and diplomacy in sharing knowledge on global environmental governance.
In 2011, in his efforts to expose the large scale corruption in the petroleum sector in particular the fuel subsidy programme, he raised a motion on the floor of the senate calling for an immediate investigation into the amount expended for fuel subsidy (NGN1.2 trillion in ten months) as against budget (NGN240 billion).
Following Dr. Saraki's Motion, the House of Representatives set up an Ad-hoc committee on Oil Subsidy to probe the subsidy payments made to oil marketers. Subsequently, N500 billion was saved annually on fuel subsidy in Nigeria.
In 2012, he was appointed to the Leadership Council of the Global Alliance for Clean Cookstoves, an initiative of the United Nations Foundation that aims to use public-private partnerships to create a thriving global market for clean cookstoves and fuels for over 100 million people by 2020.
CHAIRMAN NIGERIA GOVERNOR'S FORUM
(2007-2011)
In his second term as Governor, Dr. Saraki was unanimously elected by his colleagues across all the political parties as the Chairman of the Nigeria Governors Forum (NGF) – an association of all the State Governors in Nigeria. In that capacity, he adopted the Peer Review Mechanism (PRM) for states as well as knowledge and experience sharing. He also mobilised significant donor collaboration and support from several international development agencies working in the country, across governance, education, and health issues. He is credited for the early work done in repositioning the forum to what the organisation has become presently.
GOVERNOR OF KWARA STATE
(2003-2011)
Dr. Abubakar Bukola Saraki, as the Governor of Kwara State from 2003 to 2011, presided over a transformative period marked by significant advancements in education, healthcare, agriculture, and infrastructure. His visionary leadership not only addressed the immediate needs of the Kwarans but also laid the groundwork for a prosperous future.
His commitment to the upliftment of education materialized with the establishment of the Kwara State University, Malete, a beacon of higher learning in the state. Under his guidance, the Kwara state also saw a noteworthy increase in primary school enrollment, reinforcing the importance of foundational education.
In the realm of healthcare, the introduction of the Community Health Insurance Programme stands out, providing countless residents with vital health services and marking a transformative moment in Kwara's healthcare history.
Agriculturally, the innovative Shonga Farms program was birthed, bolstering agricultural productivity within the state. This initiative simultaneously served as a magnet for investment and a generator of employment opportunities in the state.
Infrastructure in Kwara flourished under Dr. Saraki's watch. From the development of community-connecting roads to significant upgrades like the Ilorin Airport, the state's physical landscape was enhanced for better connectivity and accessibility.
Beyond these focal initiatives, his tenure also emphasized holistic development, with significant strides in youth empowerment, sports promotion, and environmental conservation. Dr. Saraki's time as governor is fondly remembered and celebrated for the holistic development and progress it ushered into Kwara State.
SPECIAL ASSISTANT TO PRESIDENT OLUSEGUN OBASANJO
(2000 — 2002)
Saraki began his political career in the year 2000, as a Special Assistant on Budgetary Matters to President Olusegun Obasanjo. In this position, he initiated the Fiscal Responsibility Bill and served on the Economic Policy Coordination Committee, where he was responsible for the formulation and implementation of several key economic policies for Nigeria.
Dr. Saraki became the Executive Director of Societe General Bank of Nigeria (SGBN) in the early 1990s. He was responsible for creating new strategies for the growth of the bank and attracting more private sector clients. He was a pioneer in the Nigerian banking and financial industry, as he introduced the Automated Teller Machine (ATM) to Nigeria in 1989. He has also been involved in property development for over two decades, investing in several high-rise buildings across Nigeria. His company, Carlisle, was one of the leading property development companies in Nigeria in 1992 and 1993. Dr. Saraki also set up a trading business in 1992, where he imported rice, sugar, and other commodities.
EARLY YEARS AND EDUCATION
Born on December 19, 1962, Dr. Saraki received his education in both Nigeria and the United Kingdom. He attended Corona School, Lagos, for his primary education from 1966 to 1972. Later, he studied at the prestigious Kings College on Lagos Island from 1973 to 1978, where he obtained the West African School Certificate (WAEC). He then completed his high school studies at Cheltenham College, Cheltenham, London, in 1981. Dr. Saraki graduated (at the age of 25) from the London Hospital Medical College in the United Kingdom with an M.B.B.S. degree. He worked as a medical officer at Rush Green Hospital in Essex, London, and later as a senior casualty officer at Royal Free Hospital in the same city.
Dr. Saraki is happily married to Mrs. Toyin Ojora-Saraki, a lawyer and the Founder-President of the Wellbeing Foundation Africa (WBF Africa), a pan-African maternal health and wellbeing charity. WBF Africa has become one of the most influential and active organizations in the area of maternal, newborn, and child health (MNCH).
Abubakar Bukola Saraki and Toyin Ojora-Saraki have four children and two grandchildren. Outside of his professional commitments and family life, Dr. Saraki is passionate about sports and the arts. He is the proud owner of the Abubakar Bukola Saraki Football Club (ABSFC) and a devoted fan of Arsenal Football Club and the NBA's Los Angeles Lakers. His admiration for the arts further enriches his diverse interests and provides a balance to his professional endeavours.